The second round of Borrowathon is happening between March 19 – 26 and I'm super excited! I've been putting off creating my TBR because my Lumberjanes didn't come in from the library yet and I'm super bummed out!
Anyways, for this round of Borrowathon the host has created challenges and they're all pretty interesting.
Here are the challenges: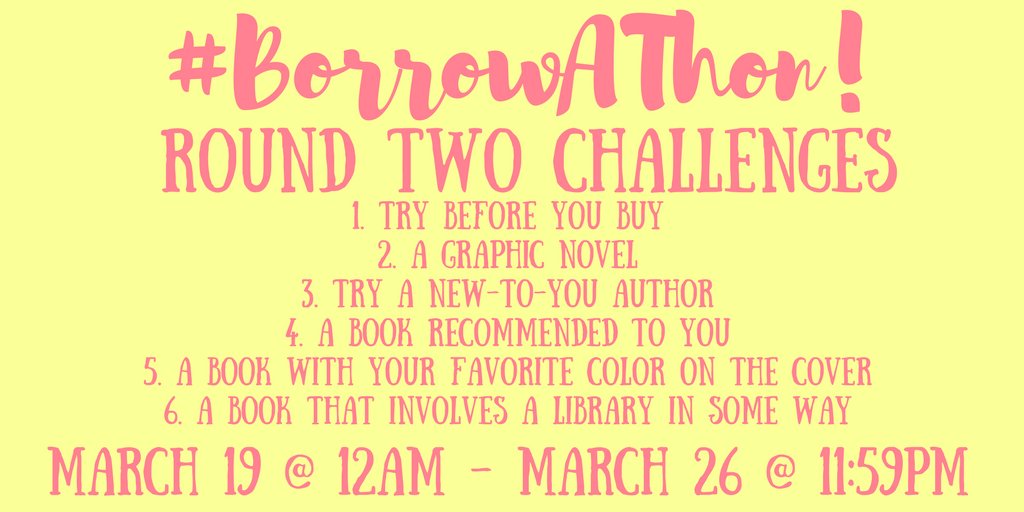 Here are my potential reads for to this round of Borrowathon. They are listed according to the challenges:
Try Before you buy: Truthwithch by Susan Dennard
Try a New-to-You Author: State of the Onion by Julie Hyzy
A Book Recommended to You: Do Not Disturb by Scott Sigler or The Pirate's Wish by Cassandra Clarke
A Book with your Favorite Cover: Do not Disturb by A.R Torre or Bloom and Doom by Beverly Allen
A Book that involves a Library in some way: File M for Murder by Miranda James
***
I'm keeping my finger crossed that I'll be able to read at least three of these books. I'm being realistic because I know I won't be able to read all of them, but still keeping my fingers crossed. Plus, I really want my Lumberjanes to come in, if it doesn't I need to grab something else for 'A Graphic Novel'.
Let me know if you guys are participating in the round of Borrowathon and if not, please, please come join us and support your local Library!